The Cleveland Browns hold the 1st and 4th overall picks in this years NFL draft. The Cleveland Browns made a significant splash this off-season by acquiring QB Tyrod Taylor, WR Jarvis Landry, and RB Carlos Hyde. The Cleveland Browns also went 0-16 last year and are 1-31 over the last two season. Despite my last point, for the first time in a while, there actually exists a small shred of optimism around the Browns current situation. Could they, dare I say it, not be terrible next year? Unfortunately for the them, the answer to this question will probably be determined, at least partly, by the decisions they make in the upcoming draft. Giving the Browns two top 5 picks is like giving Michael Bay a $250 million budget and a new Transformers storyline, based on the previous history, your chances of success seem to be low  So, if you are John Dorsey what should you do at this critical juncture for your franchise? To find out, you must start with what went wrong last year.
Defense:
According to DVOA, Cleveland had an extremely average defense last year, coming in at #16 overall. They actually had an elite run defense, sitting at #4 in the league, but were near the bottom, #27, in pass defense.
In terms of raw numbers, the Browns were second to last in allowed points per game, but were in the top half of the league (12th best) in yards per play.
The story of the numbers amounts to the Browns having a very average defense. When you consider that the Browns offense did them no favors in terms of field position and time of possession, I think it could be easily argued that the Browns defense was actually slightly above average last year.
Key Departures: CB Jason Mccourty, DT Danny Shelton
Key Arrivals: S Damarious Randall, CB EJ Gaines
Best Returning Players: DE Myles Garrett, LB Jamie Collins, LB Joe Schobert, DT Larry Ogunjobi, CB Briean Boddy-Calhoun, S Jabril Peppers
Biggest areas of need: DT, CB
Offense
You probably guessed it. If the Browns defense was, all things considered, decent, then the offense had to be pretty damn awful. And boy was it.
They were dead last in Offensive DVOA, last in points per game and 24th in yards per game.
The Browns actually had a fairly decent OL (14th DVOA), so, as you would imagine, their problems came by way of the skill positions. Their quarterback play was nothing short of awful, and the other skill positions (WR/RB) didn't do much to help Kizer and company.
Key Departures: OL Joe Thomas (check out my piece on him here), QB Deshone Kizer
Key Arrivals: QB Tyrod Taylor, WR Jarvis Landry, RB Carlos Hyde, OL Donald Stephenson, OL JC Tretter
Best Returning Players: OL Joel Bitonio, OL Kevin Zeitler, WR Josh Gordon, RB Duke Johnson, TE David Njoku
Biggest areas of need: QB, RB, T
Who should be on their board for picks 1 & 4:
Sam Darnold, QB, USC, 6'4" 225lbs
After the 2016 Rose Bowl, everybody fell in love with Darnold, and rightfully so. He has ideal size, a big, accurate arm, good/great mobility and seemed to have the 'it' factor (I hate myself for writing that) as the nation watched him comeback against PSU and lead USC to a Rose Bowl victory. He was making all the throws, in the most clutch situations. Check out this dime with 1:25 remaining down a score:
However, after shooting up everyone's draft boards, Darnold came back to earth in 2017. He still put up big numbers (4143 yards and 26 touchdowns) but concerns were raised over his decision making ability as he threw 13 picks and lost 11 fumbles this past season. Darnold is still the favorite to be the first QB taken, but he is not without his flaws. Also, I'm not sure if you heard, but, Josh Allen is tall, looks good in shorts and has big hands and a monster arm (read more here: https://www.barstoolsports.com/draft_josh_allen/) All joking aside, despite his flaws, Darnold checks nearly all the boxes in what you are looking for an NFL QB and I give the edge to him over Rosen and Allen. If the Browns go the QB route at #1, I think they should draft Sam Darnold.
Minkah Fitzpatrick, CB/S, Alabama, 6'1" 200 lb
Minkah Fitzpatrick, the number 2 player on Mel Kiper's big board, is the most versatile defender in the draft. There are not too many players that have size (6'1" 200lbs) to play safety and the top end speed (4.47 40) to play corner at the next level coming out of college. Combine those physical gifts with elite ball skills:
a willingness to be a physical tackler:
and game-changing versatility:
And what you get is one of the best defensive back prospects in recent memory, who really does not have a glaring flaw. On my personal big board (which doesn't exist outside of my head), I have Minkah as the third best player in the draft. Two spots behind this guy (Quenton Nelson is #2):
Saquon Barkley, RB, PSU, 6'0" 233 lbs
My thoughts on Saqoun Barkley were pretty well flushed out in my article titled "Why Saquon Barkley is the Best RB Prospect of the Last 15 years"
So I will spare the majority of the details. But, in short, Saquon Barkley is one of the best running back prospects ever, period. He does not have a single true weakness in his game.  He has ideal size, speed, and running style; he has shown versatility as a successful blocker, receiver and kick returner; has succeeded behind an average to below average offensive line and has no injury or character concerns. I will stop talking and let you enjoy a few clips: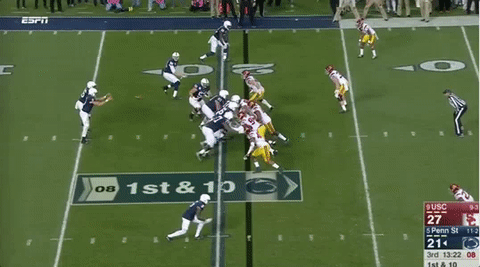 Bradley Chubb, DE, NC State, 6'4" 275 lbs
Bradley Chubb racked up an impressive list of accolades during his senior season at NC State: he was named 1st team All-ACC, 1st team All-American, won the Hendricks award for best DE and won the Nagurski award for best defender. It's hard to imagine a scenario where Chubb isn't at least a solid pro. He has fantastic size, sitting at 6'4" 276, he tested well (4.65 40 / 36 inch vert / 4.41 shuttle) and produced at an elite level for two seasons in a top conference. Production coupled with physical tools, most of the time, results in a very safe bet of a draft pick with an extremely high floor.  I have Chubb as number 4 on my fake big board and like him as both a 4-3 or 3-4 DE. Here are some clips for Chubb at NC State: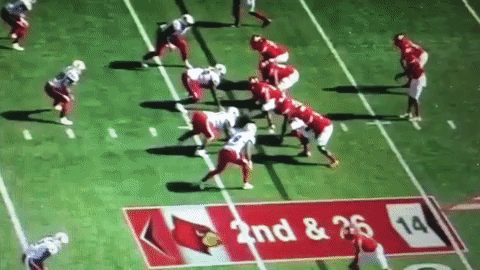 Chubb has a very balanced style, flashing the ability to beat you with speed, power and technique. Chubb should be a day 1 starter in the NFL.
What the Browns should do:
With the number 1 overall pick the Cleveland Browns should take Saquon Barkley
Saquon Barkley is the best player in this draft class, and in my opinion, it's not that close. While the Browns signed Carlos Hyde in the off-season, he is not the answer they are looking for at the running back position. Saquon Barkley has a chance to come into the league and be a pro-bowler from day one, giving the Browns an instant upgrade on offense as both a home-run threat and an every down back.
I do not believe there to be much of an argument against Saquon Barkley being the best player in this years draft. But, there is an argument against him going #1 overall, in that, if you are a true believer in one of the top QB's in this class, you should take that guy. In a statement that I will surely later regret, I do not believe there to be a franchise-altering quarterback in this draft that could come into a situation like the Browns and be successful. To be clear, I am not saying that none of these quarterbacks will succeed. What I am saying is that there is no Andrew Luck-type talent that could come in and take a really, really bad team and have them contending in a short period time. Reaching for a quarterback, just because he is a quarterback, has been shown, time and time again, to be a poor business decision. If I am Tyler Dorsey, I surround Tyrod with the best talent possible, win 6-8 games next year, and set yourself up to truly be only one or two pieces away from making the playoffs.
With the number 4 overall pick the Cleveland Browns should take who ever is left between Minkah Fitzpatrick or Bradley Chubb (Take Fitzpatrick if they are both on the board)
The Cleveland Browns are in a truly unique position. We know, almost certainly that at least the Jets, and possibly the Giants, are taking QB's with the #2 and #3 picks. The Browns should use this to their advantage and jump at the possibility to get the two best players in the entire draft not named Quenton Nelson (Guard is arguably Cleveland's strongest position). With Minkah Ftizpatrick, the Browns would be addressing one of their biggest needs, bolstering a secondary that finished #27 in pass yards allowed. Allowing them to mix and match he and Jabril Peppers, giving them one of the most versatile and explosive back ends of any NFL defense. With Chubb, on the other hand, they would be deploying a strategy that I am a massive proponent of: strengthening your strength. In the NFL it is nearly impossible to not have some holes in your roster. Sometimes, the best practice is not trying to address every single hole, but rather, acquiring talent to make a specific unit elite. Having an elite pass rush addresses problems elsewhere on the defense by itself, allowing increased freedom to drop players into coverage and by disrupting the quarterback constantly over the course of the game.
If the Browns really believe the quarterback of the future is in this draft, they should take him. If there is some hesitation, let Tyrod take the reigns for a couple of years, win a handful of games and jump at the unique opportunity to take two of the best prospects in the draft.
Bonus scenario:
My other play would be to take Saquon #1 (I stand by this no matter the situation) and then trade #4 to the Bills for the 12th and 22nd picks, and then take Baker Mayfield/Lamar Jackson at 12 and an OT at 22.